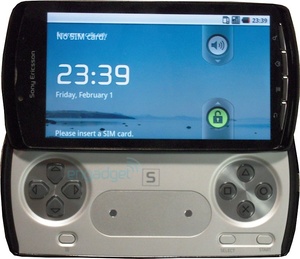 Less than a week after unveiling a prototype of the oft-hyped
PlayStation Phone
,
Engadget
has revealed more pictures, and some more slight details.
The device is codenamed "Zeus" and the prototype, at least, is running Android 2.2. The phone is expected to launch with 2.3 Gingerbread.
Furthermore the smartphone will come with an 8GB
microSD
card, a minimum of 512MB internal storage, and be around 17mm thick, almost exactly the same as the
PSPgo
.
From the original report:


Engadget says the phone will hit the market "soon," likely in the Q1 2011.

The device will run on Android 2.3 (Gingerbread), with a fast 1GHz Qualcomm MSM8655 processor, 512MB RAM, 1GB ROM and a 4.1-inch screen.

In the gaming part of the slide-out, the PSP Phone has a multi-touch touchpad, shoulder buttons and a microSD slot.
New pictures: