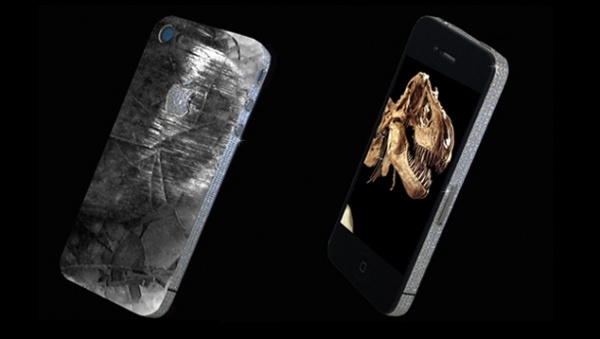 The iPhone 4 History Edition will be encrusted by diamonds, feature a 65 million year-old Tyrannosaurus Rex tooth and polished meteoric stone from the same prehistoric era.
Reads the description:
On the basis of the bezel having a massive 8.5ct 'IF' flawless diamonds with a rear platinum and diamond Apple logo, the iphone 4 HISTORY edition is the worlds 1st with a rear section structured from a 65 million year old T-REX tooth and meteoric stone. I have worked before with Dinosaur in the past but I wanted to go fierce on this one hence we sort a tooth, doesn't come more fierce than that , we then splintered and shaved the tooth into the pre polished meteoric stone both of which were sort from Arizona in the US.
Stuart Hughes is selling the iPhone 4 History Edition for £39,995 in limited quantities, only ten have been made.