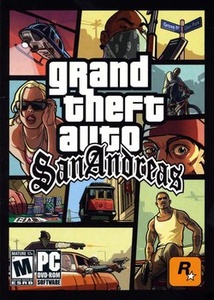 Michael "Shag" Washington, backup singer for the band Cypress Hill has sued Rockstar Games and publisher Take-Two for $250 million dollars, for allegedly using his likeness without permission in the blockbuster hit Grand Theft Auto: San Andreas.
$250 million is 25 percent of the profits the game has made since its release in 2004.
Washington says that while the game was in development, Rockstar consulted him for a real-life look into "gangs and street life," promising to call him if they used any of his material in the game.
The singer says now that the entire appearance and story of Carl "CJ" Johnson, the main character, is based on what he consulted Rockstar and his own life story.
Washington says he never heard back from Rockstar and only just heard of the game after a nephew purchased it for his Mac last month. After playing the game, Washington says he believes the stories and appearance of the main character are based off his life and info.
"Upon examination of images of 'CJ' and comparison to his photos from that year and other evidence, it became clear that Rockstar had stolen his image and never paid him,"
reads the suit (
via GamaSutra
).
Take-Two and Rockstar both deny the claim and "will vigorously defend" themselves in court.