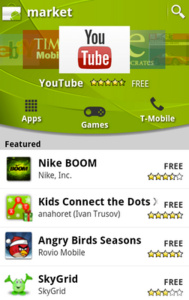 Google has said this week that the Android Market has gotten a full makeover, with users getting the new "significantly updated" client over the next two weeks.
To get the update you must have Android 1.6 or higher running on your device.
The engineering team behind the Market says the update "introduces important features that improve merchandising of applications, streamline the browse-to-purchase experience, and make it easier for developers to distribute their applications."
Helping users discover new apps, the team has added a "carousel" on the home and category screens. Promoted apps will be prominently displayed in the carousel and users can head right to download pages for the apps.
Categories will have new widgets and live wallpapers, as well.
Perhaps most notably for "discoverability," is the addition of "Related" content to app pages, showing apps of similar interest to the one you are downloading.
All the information about an application is now available on one page, meaning tabs are no longer necessary.
On the developer size, .APK files now have a maximum size of 50MB, meaning larger, richer games should be on the way in the future.
Read more here:
Android Market Client Update