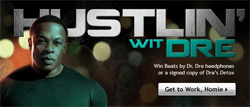 Legendary
rapper Dr. Dre has announced this week that he will begin promoting his upcoming album via "
Mafia
Wars," the extremely popular Facebook game.
'Detox,' Dre's first album since 1999, is set for release early next year, after years of delays.
The partnership
with game developer
Zynga
will begin with the company
streaming
the music video for "Kush," the first single off the album.
Zynga is the market leader in the growing "social gaming" market, thanks to their hits FarmVille, FrontierVille, Mafia Wars and others.
The promotion is dubbed "Hustlin' Wit Dre," and Mafia Wars gamers can purchase and collect Dr. Dre virtual goods, like Beats headphones, weapons and a car or purchase (in real-life) 'Kush.'
There is a chance to win a signed Detox album, as well as signed Beats headphones, via the promotion.