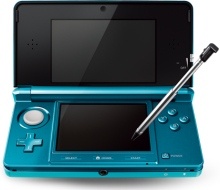 Nintendo
has finally priced
the upcoming 3DS handheld for the U.S., giving it a $250 price tag.
The device launches in the States on March 27th.
Most speculators had believed Nintendo would sell the console for $300, around the same price it will sell for in Japan, however, it appears the company has gone for a discount.
At $250, the 3DS will sell for $70 more than the most expensive
DS
, the over-sized
DSi
XL
.
Both the Cosmos Black and Aqua Blue bundles will come with a free charging dock and a 2GB
SD
card.
The 3DS will hit Japanese stores on February 26th, 2011, and then the US/European markets one month later.
The first 10 launch games for the system are:
Legend
of Zelda: Ocarina of Time 3D, Nintendogs + Cats, Pilotwings Resort, Pro Baseball Spirits, Professor Layton and the Mask of Miracle, Ridge
Racer
3D, Samurai
Warriors
Chronicle, Steel Diver, Super Monkey Ball, and Super Street Fighter IV: 3D Edition.