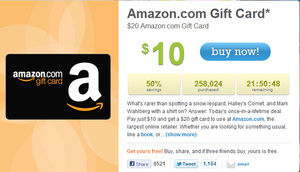 Just weeks after receiving a $175 million million investment by Amazon, popular daily deal site Living Social has begun a "once-in-a-lifetime" deal of offering a $20 Amazon gift card for $10.
The deal began at midnight and will run until 8 AM tomorrow.

So far, Living Social has sold 500,000 of the gift cards and it is unclear how much they paid for the cards.

The promotion makes it clear that Amazon.com is "not a sponsor" and the gift cards are "sold by LivingSocial, an authorized retailer of Amazon.com Gift Cards," and no one else.

Calls to Amazon have confirmed the promotion will run the full way through, with no cap on how many buyers, with most expecting a final count around 600,000.

Living Social is the second largest daily deal site behind Groupon, and the new deal seems like an easy and cost-effective way to bring in (potentially) hundreds of thousands of new customers to its service, whilst also sending traffic to its largest single investor.