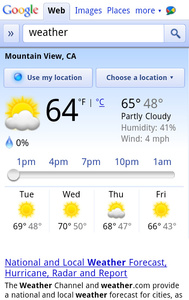 Google has announced the start of an in-browser weather app today, for users running Android or iOS.
After opening the Web browser, if users type in "weather" to the search bar, they will be greeted with the current weather, using
GPS
for location.
iPhone owners can use the slider bar to see the hourly forecast for the next twelve hours.
For now, the app is not available for BlackBerry owners, or anyone who needs a language other than English.
(
Pic via Electronista
)