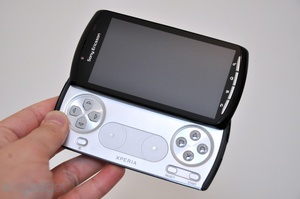 Engadget
has posted an in-depth preview of the upcoming
Sony
Ericsson PlayStation Phone, dubbed the "Xperia Play", which should be unveiled officially at the MWC next month.
The Xperia Play has a 4-inch display with 854x450
resolution
and will run on Android 2.3 Gingerbread. Although unconfirmed, the device's multitouch screen will allegedly be powered by a Sony Bravia engine for smoother video playback.
Under the hood, the device appears to run on a single-core processor clocked at 1-1.2GHz, an Adreno 205 GPU and 512MB
RAM
.
As is standard, the smartphone/handheld will have
802.11n
WiFi, Bluetooth 2.1 with EDR, and an FM receiver plus transmitter.
Physically, the smartphone has 4 buttons, Back/Menu/Home/Search, a 1500mAh battery, USB port,
microSD
slot and 5MP camera which lacks
720p
recording.
For now, the site only has a prototype so not all features (especially the gaming aspects) are fully clear and the editor says the
firmware
is still very buggy, but everything should be become clearer next month at the Mobile World Congress event.