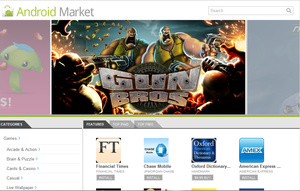 Google unveiled their web version of the popular Android Market today, live now at
market.android.com
.
The site should help Android device owners find their apps easier, in the same manner that
iTunes
gives iOS users a chance to look up apps online before downloading to their devices.
Until today, Android users had to find and download their apps from their smartphones and tablets, or read reviews from third-party sites.
If the app is paid, you can purchase it online via the website and send it to your device, directly.
Because the Market is attached to your Google account, when you log in you can see all your purchased/downloaded apps.
Google does note that the store may have some first-day early bugs, which users should expect to be ironed out by the end of the week.