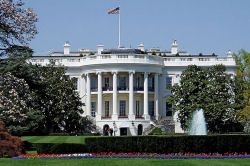 U.S. President Barack Obama met with chief executives from U.S. tech companies at the White House on Tuesday to discuss several issues.
Among the CEOs visiting the White House was
Ursula Burns
of Xerox,
Michael Dell
of Dell Inc. and
Samuel Palmisano
of IBM. On the agenda was jobs, education, trade and taxes as the President picked the brains of the heads of the tech giants.
A White House statement said that the President and the CEOs discussed plans for investments in the United States, as well as the importance of prioritizing Science and Math in U.S. education institutions. They also discussed
"ideas for reforming and reorganizing the government to streamline the process and improve efficiency through the use of technology."
The group also pledged support for the Obama administrations's work to get free trade agreements through Congress citing support for the Korea Trade Agreement.
"Seventy percent of our industry is outside the United States and most of the growth is outside of the United States, so we need a competitive playing field,"
Palmisano said
.
He also said that the tech community very supportive of several plans the President discussed at his State Of The Union speech last week, on innovation, R&D, education and a competitive tax structure.
Ursula Burns called the meeting
"productive"
and said the President was very attentive and listened to all the points raised by the group.
The CEOs are members of the
Technology CEO Council
, which includes companies that
generate $280 billion in annual revenue
and employee more than 800,000 workers.