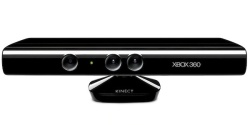 Michael Phelps, the Olympic gold medal winning swimmer has his own
Kinect
game coming this summer, giving the world possibly their only chance to ever beat Phelps in a race.
Says Phelps in the press release:
I'm really excited to help bring a one-of-a-kind swimming video game to the market that is reflective of my competitive nature and passion for swimming. This definitely isn't your typical video game; much like my training in the pool, Push the Limit is about improving and mastering every race element -- from controlling your adrenaline on the block to perfectly timing your finish. In my world, it takes a lifetime of dedication to get one-hundredth of a second ahead and I believe Push the Limit offers players a unique journey inside swimming that will challenge themselves as much as their in-game competitors.
The game is set for release in June.