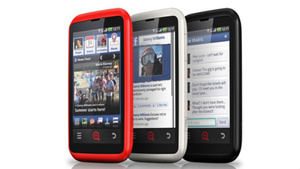 The oft-rumored Facebook phones are a reality, despite the social networking giant's repeated denials of their existence.
INQ Mobile has shown off two new phones that are
"the result of close collaboration with Facebook."
The first device, the Cloud Touch, will have a 3.5-inch touchscreen, run Android 2.2 Froyo, a 5MP camera and feature a weak 600MHz processor. Although it is hopefully a typo, the
press release
says the device will only have 4MB of memory.
Second is the Cloud Q, which has a 2.6-inch touchscreen, full QWERTY, and runs Android 2.2. There were no other specs listed.
INQ says each phone will have a dedicated
Spotify
button, which also doubles as the music player.
Both will only be available in the UK via The Carphone Warehouse and Best Buy.
Explains the press release:
Today, INQ Mobile delivered an all-new Facebook mobile experience with two new Android devices, the INQ Cloud Touch and INQ Cloud Q. Built for people worldwide who use Facebook as their primary means of communication, they deliver a fully live Facebook experience built around INQ's Visual Media Feed.

The result of close collaboration with Facebook, INQ Cloud Touch and INQ Cloud Q feature all new apps for Facebook on mobile. The new apps leave behind the mobile paradigm of text based status updates and deliver a rich media feed to the homescreen.

The homescreen is a visual Facebook feed for clicking through friends' updates, pictures, videos and web pages. There are one-touch links to Facebook Chat, Friends, Messages, Wall and Notifications. Facebook Single Sign On is activated across the phones and people can check in to their favorite shops, restaurants and clubs with Facebook Places, also active on the homescreen. Facebook Events fully integrates with the Google Calendar on both devices.

The phones are the first mobiles to use the Facebook social graph API, making it easy for people to follow updates from the friends they interact with most.