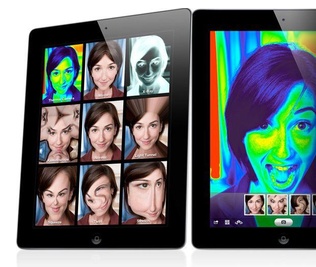 Will be updating as the event goes on...
1:02 PM: Steve Jobs has come on stage to applause.
1:05 PM: Random House adds 17,000 books to iBook store
1:06 PM: Apple has paid out $2 billion to iOS app developers.
1:06 PM: 100 million iPhones sold.
1:07 PM: "Today we're here to talk about Apple's third post-PC blockbuster" iPad made 9.5 billion in revenue, 15 million sold in 2010, 65,000 iPad-specific apps. Compares to Honeycomb which only has 100.
1:15 PM: Introducing iPad 2:
-New chip A5: CPU is 200 pct faster, with graphics 900 pct faster. Same consumption as A4
-Dual cameras
-Gyroscope
-MUCH thinner, from 13.4 mm to 8.8 mm. Thinner than iPhone 4
-Lighter from 1.5 pounds down to 1.3 lbs
-Ships in White and Black
-AT&T and Verizon support at launch
-10 hour batter life
-Same pricing
-March 11th launch in America
-
Smart Covers
"This isn't a case anymore. It's a cover for the screen...Magnets grasp and auto-align the case. You can put it on in a second....The micro-fiber screen cleans the screen every time you close it, and it's incredibly minimal...And it comes in polyurethane, which is used to make space suits!"
-iOS 4.3: Improved Safari performance, Javascript 2x faster, iTunes Home Sharing, updated AirPlay, PhotoBooth, FaceTime between all iOS devices..coming March 11th
-iMovie for iPad, $5
- Garage Band for iPad