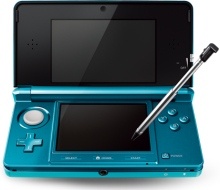 Nintendo
has announced today that its 3DS handheld will soon receive Netflix
streaming
support.
President Reggie Fils-Aime says support is coming during the summer, and the handheld launches in the U.S. on March 27th.
A streaming-only Netflix subscription costs $7.99 per month and gives access to 20,000 movies and TV shows.
Adds Fils-Aime (
via USAToday
):
Say you are away from home starting to watch a movie on the Nintendo 3DS. When you get home, you can go from the 3DS to streaming on the Wii to your big screen. Users will be able to start on the Wii and switch to 3DS, as well.
Finally, users will get a software update in May that will bring AT&T W-Fi hotspot access. The carrier currently has 10,000 hotspots.