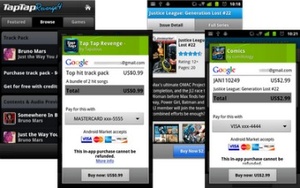 Google has finally launched in-app billing, giving developers a chance to add a new revenue stream via apps.
iOS
has included in-app purchases since 2009, and
Apple
takes 30 percent for all purchases. Google will do the same.
In-app billing will let developers sell upgrades, virtual goods and other content from within the main app.
The first apps to update with in-app billing are Disney's Tap Tap Revenge, ComiXology's Comics and Glu Mobile's WSOP Hold'em
Legend
, says
Mash
.
Google announced earlier this year that in-app billing was coming but did not include a timetable.