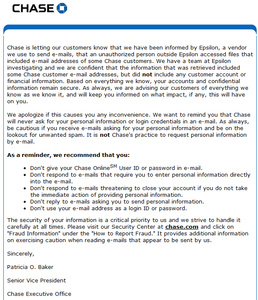 Epsilon
Data Management, one of the largest online mail service companies in the U.S., confirmed reports that millions of names and email addresses were stolen after hackers broke into their system.
Emails and names were stolen for firms including Chase, Best Buy, Target, HSN, Capital One,
TiVo
and Walgreen among 50 companies.
I have attached the email I received from Chase this morning.
In all, the company provides online mail services to 2,500 companies.
Says one security analyst (
via LAT
):
These are examples of why those people who provide services to thousands of other companies have to be way more secure than the individual companies themselves.
Each of the companies affected has sent out warning letters to customers telling them to prepare for an increase in phishing emails, aimed at stealing credit card details, passwords or addresses.
While the attack will affect millions, Epsilon spokeswoman Jessica Simon says no sensitive information was stolen.