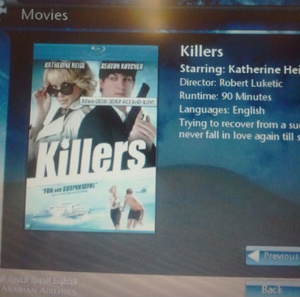 TF
has posted a picture today that shows a Saudi airline running a pirated
Blu-ray
copy of the movie "Killers" as its in-flight film.
The copy shows up as "Killers 2010
BDRiP
AC3
XViD-ILOVE," clearly meaning the airline decided to roll with a pirated copy over the official content given by the studios.
It is likely the company has the license to play the film, but believed pirating the film was easier (no DRM), or just better quality.
There was no comment from the airline or the studio behind Killers.