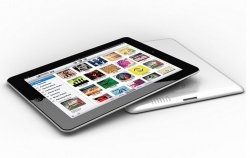 According to
Digi
,
Apple
shipped about 2.5 million iPad 2 in March, and that number is expected to double in the next quarter.
Says the source:
Sales of iPad 2 are running at a rate faster than its predecessor, and Apple took delivery of 2.4-2.6 million units in March. Apple is likely to take delivery of 4-4.3 million units a month, or a total of over 12 million units, of iPad 2 tablets in the second quarter.
The original iPad took 9 months to sell 15 million units meaning Apple expects its sequel to far outsell.
By comparison, the
Motorola
Xoom, with Android 3.0 Honeycomb,
is rumored to have only sold 140,000 units
.
Despite the devastating earthquake in Japan, the source says Japanese and other Asian touch panel makers are expanding their production to keep up with iPad demand.