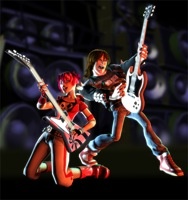 Despite confirming they were shutting down the once popular
Guitar Hero
franchise, Activision has said today the series is just "on hiatus" and is not completely dead yet.
Dan Winters of Activision says the game could hit shelves again in the future if the publisher once again sees a chance for it to be successful.
Says the exec (
via GI
):
Actually, just to clarify, we're just putting Guitar Hero on hiatus, we're not ending it. We're releasing products out of the vault - we'll continue to sustain the channel, the brand won't go away. We're just not making a new one for next year, that's all.
The publisher had said in February that it was shutting down the game and moving resources to other franchises and titles.
Activision even disbanded all development for a new Guitar Hero title that was expected in time for the holidays.