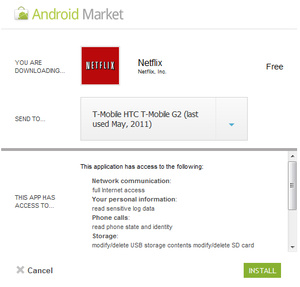 Netflix has announced the launch of the long awaited
streaming
app for Android devices, however, it is only available on five devices.
As of right now, the app is available for the Nexus S,
Nexus One
, T-Mobile G2,
HTC Evo 4G
and
HTC
Incredible.
You must be running Android 2.2 (or 2.3 for Nexus S) to download the app.
Netflix was clear to explain why the small selection of phones:
The Android platform is gaining rapid adoption in the mobile world and presents a great opportunity to reach more of our members. Because the platform has evolved so rapidly, there are some significant challenges associated with developing a streaming video application for this ecosystem. One of these challenges is the lack of standard streaming playback features that the Netflix application can use to gain broad penetration across all available Android phones. In the absence of standardization, we have to test each individual handset and launch only on those that can support playback. We are aggressively qualifying phones and look forward to expanding the list of phones on which the Netflix app will be supported. We anticipate that many of these technical challenges will be resolved in the coming months and that we will be able to provide a Netflix application that will work on a large majority of Android phones.
Despite the fragmentation, the company is working on expanding the selection of devices the app will work with:
We expect to quickly add to the number of phones that can download from Android Market as we work with ecosystem partners to expand playback support.
Download it from the Android Market directly or from here:
Android Market on the web