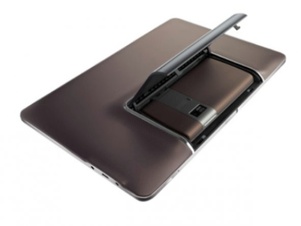 Asus
has shown off their much-hyped tablet/phone hybrid device, the Padfone.
The smartphone can be placed into a dock built-in to the back of the tablet, allowing users to have all the features of a phone (calls,
GPS
, texting, etc) on the larger screen of the tablet.
There were little other details revealed on a hardware basis, but the tablet will be 10.1-inches while the phone will have a large 4.3-inch screen.
Asus did not reveal pricing or a set release date.