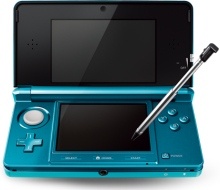 Beginning next week,
Nintendo
will begin offering 25,000 public Wi-Fi hotspots for
3DS
gamers, giving them a chance to download from the eShop or play online games even when not at home.
Thanks to a partnership with Simon Property Group, a massive real estate owner/developer, the free Wi-Fi will go live at 200 Simon shopping malls in the U.S. on June 7th.
With the new 200 hotspots, 3DS gamers now have access at over 25,000 spots, including 1000 Best Buy stores and 24,000 AT&T hotspots.
Notes Nintendo America president Reggie Fils-Aime (
via 24/7
):
With thousands of free Wi-Fi access points through our alliances, Nintendo 3DS users across the country can instantly enjoy one-of-a-kind entertainment experiences wherever and whenever they like.



In addition to a strong lineup of games and the ability to view 3D content without special glasses, the system makes it easy for people to connect with their surroundings and each other, even when they're away from home.
The eShop goes live in the U.S. the day before, June 6th, giving users a place to browse and purchase downloadable content.