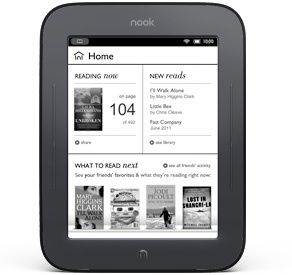 Consumer Reports
has reported today that the new Nook Simple Touch Reader is their highest-rated e-ink e-reader, ever, ahead of Amazon's market leading Kindle.
Barnes & Noble launched its first Nook in 2009, to strong reviews, but never better reviews than the comparable Kindle.
The latest Nook, just like its predecessor and the Kindles, uses E-Ink Pearl Tech and offers weeks of standby battery life on one charge. Differentiating the device is its touchscreen E-Ink, allowing for quick page flipping with no buttons.
CR says the Simple Touch
"matches or bests—albeit modestly—its Amazon competitor in almost every aspect of performance. Among the attributes on which we score the devices equally is battery life; despite a power struggle between B&N and Amazon over which device runs for longer, we give both equal credit for a claimed battery life of five days or more."
The latest generation Kindle and the Nook Simple both cost $140 for Wi-Fi-only models.
CR concludes:
Updates to firmware might eventually allow Kindle to reclaim its top rank in our Ratings. Among the pluses that allowed the Simple Touch to edge ahead of the Kindle was its support for e-book loans from public libraries, but Amazon has announced that it will bring library loans to the Kindle later this year; assuming it's implemented well, that functionality might boost Amazon's e-book reader by the few points that now separate it from the Simple Touch.