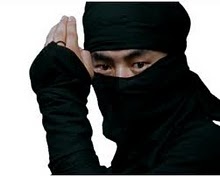 If you have been following AfterDawn for the past month, or broad technology news in general you have undoubtedly heard of the group LulzSec, responsible for multiple hacks on Sony, Sega, Cia.gov, a site for the U.S. Senate and countless others.
Over the past week, however, a group calling themselves "Web Ninjas" have posted a blog called
LulzSec Exposed
, with the group's main purpose being "exposing" the members of LulzSec.
So far, the group has posted numerous chatlogs from alleged LulzSec leaders and members and even "Doxed" five of them, posting their pictures, names, addresses, emails, and in one unfortunate guy's case, his social security number and IP address.
One 'exposed' member is a contributory journalist for The Huffington Post, Guardian UK and other large sites.
The hacking group did respond to the blog and practically laugh it off, saying:
Dear Internets,

> Herro! Recently some of you may have seen "LulzSec exposed" logs floating around. We'd like the time to say this: LOL. Those logs are primarily from a channel called #pure-elite, which is /not/ the LulzSec core chatting channel. #pure-elite is where we gather potential backup/subcrew research and development battle fleet members, i.e. we were using that channel only to recruit talent for side-operations.

Despite the fact that we're laughing heartily right now, we do take care of our subcrew, and as such the person who leaked those logs (m_nerva) has been completely hacked inside and out. We have all his online accounts, all his personal information, all the illegal things he's done on record. We destroyed him so hard that he sat there apologizing to us all night on IRC for what he did. His mother probably spanked him after we wrecked his home connection. Uh-oh, m_nerva!
Check the site if you are interested but be reminded there is really no proof to the claims or the denial from the group itself.