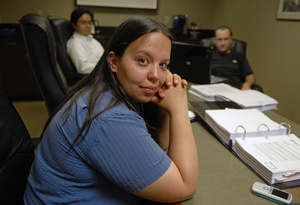 In 2006, Jammie Thomas-Rasset was sent a letter asking her to settle (for $3300) over alleged unauthorized file sharing of 24 tracks.
She refused and decided to take the case to court.
In 2007, Thomas-Rasset was found liable for $1.92 million in damages, but a retrial saw the fine dropped to $220,000. In 2010, however, a judge reduced the award to $54,000. The
RIAA
told Thomas-Rasset that they would accept $25,000, if she would agree to ask the judge to remove the decision from the record. She did not accept the terms of the deal and the trial went to part 3. Later that year, Thomas lost again in court, with a jury finding her liable for $1.5 million in copyright infringement damages. The Minnesota woman appealed.
Fast forward to today,
and it appears
that another judge has reduced the verdict to $54,000 again, calling the original jury award "appalling."
The RIAA has said it is considering appealing in what has to be the longest saga ever involving pirated music tracks.