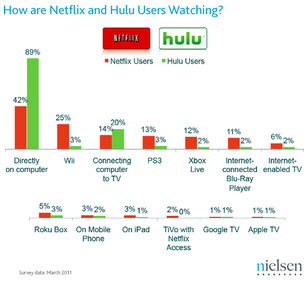 Nielsen has posted figures on Hulu and Netflix usage, by device, and it appears that a full 50 percent of all users stream the service via gaming consoles.
For Netflix, 42 percent watch via their computers, 25 percent watch from their
Wii
, 14 percent stream from their TV (hooked up to computer), 13 percent use their PS3 and 12 percent use the Xbox 360.
Because the 12,000 users surveyed were allowed to give multiple answers, it is unclear how many use consoles or their computer exclusively.
Many users also connected
via
Blu-ray
players, set-top boxes, and mobile phones.
For Hulu, 89 percent used their computers, unsurprisingly since the service costs money on any mobile device or console.
73 percent of Hulu users "primarily" watched TV shows while Netflix had that figure at 11 percent.