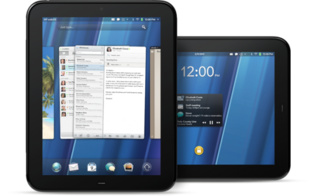 HP
has started a promotion today that will chop $50 off the price of their newly-launched WebOS-based TouchPad tablet.
With the discount, the tablet will sell for $450 (16GB model) or $550 (32GB model).
Retailers and channel partners have offered that demand for the TouchPad is very light, so the promotion is not a shock to anyone. What is shocking is how quickly HP had to resort to the price cut after launching the device on July 1st.
One HP partner in the health care market, Denali Advanced Integration,
says
they have seen interest from a number of hospitals who have requested "try-before-you-buy" units. There have been very little completed sales, however.
The company purchased
Palm
last April to acquire
WebOS
and all its patents, and the TouchPad, along with a new version of the
Palm Pre
, are the only new devices consumers have seen with the mobile OS. Developer support has been, understandably, limited.