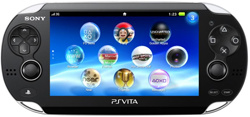 Japanese buyers will see the console for Christmas, but everyone else has to wait.
Despite the general expectation that
Sony
would be rolling out the
PlayStation Vita
handheld before the holiday season, the company has said today that it will not hit Europe or the U.S. until 2012.
Because of the delay, many analysts now expect Sony to have weakened sales of the console, and overall revenue decline.
For controls, the updated handheld adds dual micro-analog sticks, giving gamers a feature they begged for on the original
PSP
.
The device has a massive 5-inch multi-touch OLED screen with 960×544
resolution
, a multi-touch panel on the back and will run on a quad-core
ARM
cortex processor.
Sony has added tilt-sensitive SIXAXIS controls, standard and front-side cameras,
GPS
, an electric compass, Wi-Fi and 3G support, and access to Android gaming.
For 3G, AT&T is the exclusive carrier.
Prices $250 for Wi-Fi-only, $300 for 3G. The rival
Nintendo 3DS
just saw a price cut to $170 from $250, just months after release.