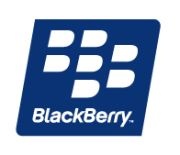 It appears the acquisition of
Motorola Mobility
by
Google
could be the best thing to happen to
Research In Motion
so far this year.
RIM
, the company behind the Blackberry brand, has been having a rough year. Their stock price has fallen more than 50% since the year began thanks in no small part to disappointing sales of their Playbook tablet and an extended period between major handset upgrades.
RIM's
stock rose nearly 10%
based on speculation
their patents, which largely center around data synchronization, might make them the next handset maker to be sold. In addition,
RIM
is part of the alliance which, earlier this year,
outbid Google
for more than 6000 patents previously owned by now defunct
Nortel Networks
.
Like the
Motorola deal
announced on Monday,
Google's
interest in the
Nortel
patents was seen as
primarily defensive
, which raises the question of just how much interest there would be for purchasing
RIM
. Unlike
Google
, the companies frequently suggested as potential buyers,
Apple
,
Samsung
,
HTC
&
Microsoft
already own extensive smartphone related patent portfolios.
And of course it would take more than just an interested buyer.
RIM's
chief executives, who also happen to be the company's biggest stockholders, would need to be convinced. And even if that happens, the Canadian government would still have
to sign off
on the sale.