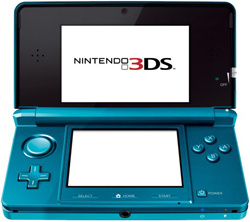 Nintendo finally gets some relief, for now.
According to
Enterbrain
,
Nintendo
's 3DS handheld system sold 215,000 units following a price cut in Japan. The price cut was enforced to boost sales of the ailing handheld, which saw a lot less demand than Nintendo had anticipated.
From August 11, the price of a 3DS in Japan dropped from ¥25,000 to ¥15,000. The sales numbers for the following week have been the
second highest for the handheld
, behind the launch week tally of 371,000 units in the country.
Japanese publication Nikkei also reported a strong week for the 3DS following the price cut, though its sales figures were 8,000 units less than those given by Enterbrain.
Nintendo President
Satoru Iwata
recently apologized to customers in Japan for the price cut. He admitted that such a sudden price cut not so long after the launch off the device had left some first buyers upset.