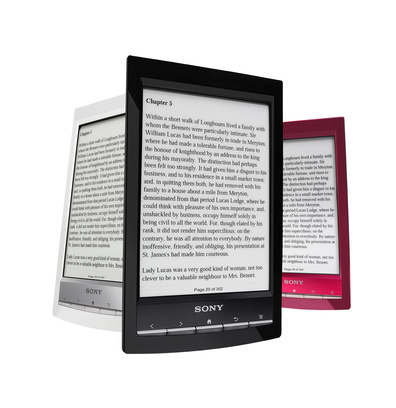 Sony
has unveiled its latest Reader e-reading device, the world's lightest ever.
The company says the Reader weighs 5.9 ounces and is just 8.9mm thin with one-month of standby battery life.
Sony's Reader Wi-Fi uses an E Ink Pearl display and can handle EPUB, PDF and TXT formats. Everything else is pretty standard for an e-reader.
Featuring 2GB storage, Sony says you can fit 1200 eBooks, and there is a
microSD
slot, regardless.
Finally, Sony is also offering a limited edition Pottermore version of the Reader Wi-Fi which includes a voucher for a free download of the first version of the popular Harry Potter series.
Full specs:
Model name

PRS-T1

Display:

E-Ink Pearl™ v220
- Screen Size: 15.2cm (6 inches)
- Gray Scale: 16-levels gray scale
- Resolution: 600 x 800 pixels

Touch-screen

Clear Touch Infrared technology

Battery life (continuous playback)

-A single charge lasts over one month with wireless off based on a half-hour of daily reading time. *1
-Read on a single battery charge up to 3 weeks with wireless on. *1

- Up to 14,000 continuous page turns when reading only *2

* 1 Measured by reading 30 minutes each day. In low coverage areas, wireless usage will consume battery power more quickly. Actual battery life may vary upon wireless usage, product settings, battery and environmental conditions.

*2 Measured using text-based content in EPUB format and fully charged battery, consecutive page-turns at approximately one second per page under recommended operating temperature. Actual battery life may vary based on usage and individual device.

Charging Time

Approx. 2 hours using power adapter (sold separately).

Approx. 2.5 hours via USB from connected computer.

Built-in memory size
(User available capacity)

Approx. 1.3 GB after initial setting*

Available memory capacity may vary, depending on size of pre-loaded excerpts and 2 English/10 translation dictionaries.

Stores up to 1,200 books* in internal memory.

*Based on average un-illustrated eBook file size of 1.0 MB.

Memory Expansion

Micro SD card up to 32GB*

* Based on use with compatible external memory cards (sold separately). Actual file size may vary by digital book title. Some memory cards may not work with Reader.

Wi-Fi Network

Standards: IEEE 802.11b/g/n

Security: WEP, WPA-Personal, WPA2-Personal

Wi-Fi Protected Setup (WPS)

Operating/charging temperature

5°C to 35°C

Dimensions (Approx.)

173.0 x 110.0 x 8.9 mm (H/W/D)

Weight (Approx.)

168g

Bundled Accessories:

USB cable and Stylus Pen