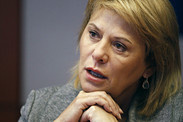 In an interview with
Fortune
magazine, fired Yahoo! CEO Carol Bartz has let it be known her feelings on the recent move by the company's Board of Directors.
"These people f**ked me over,"
says Bartz.
Bartz says chairman Roy Boystock called her on her mobile phone and began reading a lawyer-prepared script:
I said, 'Roy, I think that's a script,' why don't you have the balls to tell me yourself?'"
The former CEO concluded with
"I thought you were classier,"
before hanging up.
Bartz, after a successful run at Autodesk, was hired in January 2009 to turnaround the struggling company. She has not, and Yahoo has become somewhat of a laughing stock for its inept management.
Blaming the fact that Yahoo turned down a massive cash offer from Microsoft in 2007 and faced large criticism, Bartz says the directors are now impatient.
"The board was so spooked by being cast as the worst board in the country. Now they're trying to show that they're not the doofuses that they are."
Finally, Bartz says:
"I want to make sure that the employees don't believe that I've abandoned them. I would never abandon them. Besides, I have way too many purple clothes. I wish the Yahoo people the best...it's a fantastic franchise."