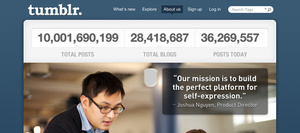 The microblogging and picture sharing platform has hit its latest milestone, 10 billion posts.
Tumblr says the service now hosts 28 million blogs, and over 10 million posts are made per day.
The service really began becoming popular last year, and now traditional media sites like NPR, Rolling Stone and others have pages, as a way to engage readership, adds
RWW
.
Tumblr, in pageviews at least, has now surpassed Wordpress, the blogging network.
The service has an expected 3 billion pageviews per month.