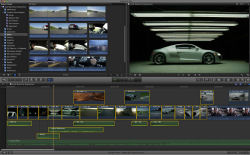 Apple insists it is only clearing stock of the old software.
Last week, an older version of its Final Cut video editing software became available again amidst ongoing complaints that its successor,
Final Cut Pro X
, is not good enough for professional editing.
Final Cut Studio
is available to order (by phone) selling for £834 in the UK, as Apple insists it is only clearing out old stock. Final Cut Studio includes the
Final Cut Pro 7
software.
"It's really good news all round. I don't know what people would have done over the next year otherwise,"
said
Ben Franklin
, head of post production at London-based Spectrecom.
"Final Cut Pro X just doesn't seem to fit within the way we work, so we have to make the decision, do we stick with it or do we look elsewhere like Avid or Adobe Premiere Pro."
Apple has also
reportedly been pushed
by some major customers and broadcasters to do something about what are seen as major issues with the new software.
Reviews for Final Cut Pro X were mixed, but particular attention was paid to the removal of key features from previous iterations of the software, and the inability to import projects from older versions.