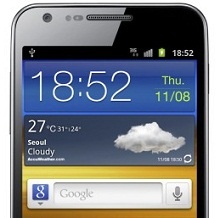 Although
Samsung
's Galaxy S II has only been available in the US for a short time, rumors are already beginning to surface about its successor, the Galaxy S III.
A report from an anonymous source posting on the 4chan message board claims to list specs for the phone. The information is claimed to come directly from someone at
Samsung
.
If
the leak
is genuine, it looks to be an impressive unit:
2GHZ processor
1.5GB RAM
32GB storage
4.65" Super AMOLED display
1280×1024 resolution
10 Megapixel camera
FullHD (1080p) video recording @ 60fps
It will be interesting to see whether these specs are on the mark and how the upcoming iPhone stacks up.