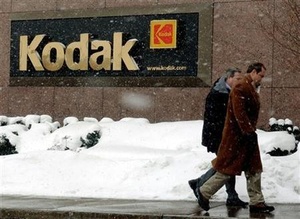 Kodak has confirmed today that the company has licensed some of its vast patent portfolio to IMAX, in an effort to stave off bankruptcy and stay viable.
IMAX will license 100 patents related to laser-projection technology used in giant-screen movie theaters.
The deal is not huge, however, with only $50 million in upfront fees and royalties into the future.
Says IMAX (via
NYT
):
This Kodak intellectual property is truly cutting edge, and will be used by IMAX?s esteemed technology group to enhance the cinematic experience for consumers, enable the application of digital technology in our larger and institutional theatres, and make being in business with IMAX even easier and more profitable.
Kodak hopes to sell 1100 patents, and soon, as the company struggles despite sitting on a patent portfolio worth over $2 billion. Kodak has not posted one profitable quarter since 2004.