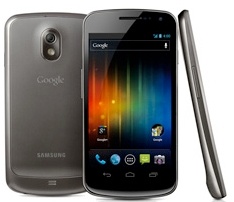 Samsung
just live streamed the event here:
http://www.youtube.com/android
The Android 4.0 ICS device will have a 1.2GHz dual-core processor, a 4.65-inch HD Super AMOLED screen and dual cameras 1.3/5 MP. Curved design, thin, impressive no-shutter lag camera.

Galaxy Nexus goes on sale in November.

Android 4.0 ICS is far and away the most impressive part of the device, however.


Interface


The new typeface in ICS is dubbed "Roboto" and is specifically designed for HD displays. There are also now live wallpapers available for the lock screen. Speaking of the lock screen, instead of a need for a password or pin, ICS has facial recognition as an option.

Screenshots are now available for all devices, with a quick touch of the power + down volume.

Virtual soft keys run on the bottom of the device and hide when not in use. Widgets are resizable and can drag dropped from the widgets tab into any home screen.



Folders are easily made, such as "games" or "multimedia" and apps just drop right in. To close an app that is open (when multitasking) just flick it off the screen.



Keyboard

The new keyboard has improved error correction, and the spell checker/dictionary are improved, as well. Talk-to-type now writes out words as you speak them, not waiting until after you are done.




Core Apps


Google's new browser adds tabs (finally). There is live preview of the screen you are trying to open, as well as flick gestures for closing tabs. There is an easy toggle for mobile/desktop mode when visiting a site.

Bookmarks are synced from your desktop version of Chrome, and their is finally offline reading. Just hit save and the page is cached for reading when you don't have access to the Web.

Gmail has been completely redesigned and included 2-line previews in the inbox. A new "action bar" on the bottom of the screen shows your most used actions, like "compose" and "search." You can search, offline, through the last 30 days of mail and read them, when not connected to the web.

The Android calender adds easier navigation and pinch-to-zoom to see more details about any event.

Data management is made easier with an impressive task manager.

The gallery can be organized by tabs, people, places and more. Each has HD preview.

Using the impressive camera, you can take Panorama shots. Glide the camera across an area and ICS will piece it together and create a panorama.

The camcorder allows for 1080p HD video recording, zoom whilst recording, and the ability to snap pics while shooting.

Visual voice mail has been update and is available right in the call log. You can speed up the voicemail if someone talks slow, or vice versa.

If you are busy when someone calls, swiping upwards allows you to send a "Quick Response" text such as "in a meeting, call you later" instead of just hanging up on the person.






Beam


Using NFC tech, Beam allows users to put their devices back to back and share info. You can share apps, games, web pages, Google Maps info, and more.