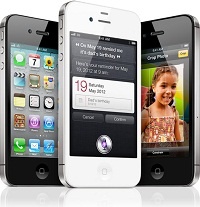 It appears
AT&T
may be have been the biggest beneficiary of a
record iPhone launch
last weekend. Sales of the new
Apple
smartphone topped 4 million units in the first 3 days.
Yesterday
AT&T
said they had already activated more than 1 million iPhone 4Ses already. The announcement came during their quarterly earnings call.
Although they haven't released specific numbers,
Sprint
reported record sales less than half way through the day the new iPhone went on sale.
Verizon
also hasn't released sales figures, but we should know more after their earnings call which is scheduled for today. Don't be surprised if those numbers are less impressive.
Unlike
AT&T
, who was the
exclusive US iPhone carrier
until
last February
,
Verizon
sold their first iPhones earlier this year. That should translate into fewer immediate upgrades from the iPhone 4, and obviously none from earlier iPhones.
That may, however, be a good thing for
Apple
. It could mean steadier US iPhone sales through next year, with
Verizon
customers upgrading later.
Since the iPhone 4S lacks LTE capability, which means it won't be able to take full advantage of
Verizon
's 4G data network, some
Verizon
customers may even wait for the next iPhone upgrade in the hopes LTE support will be added.
But if previous iPhone launches are any indication, those people will likely be in the minority.