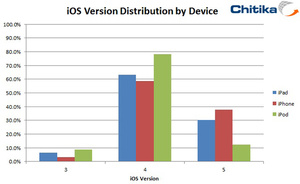 Despite some issues with downloads,
iOS 5
is now on 38 percent of all iPhones.
According to Chitika Insights, one month after release, the new OS is on 38 percent of iPhones, 30 percent of iPads and 12 percent of iPod Touch.
The firm uses mobile ad network impressions to analyze traffic.
Says Chitika (
BGR
):
The iPhone 4S sold over 4 million units in the first weekend, so this certainly contributes to the heightened volume. However, this could be compounded by the fact that many consumers use their cellphones as their primary mobile device, and update it as necessary due to its great utility.