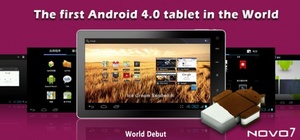 MIPS has created their own
Android
tablet, and it will sell for $100.
While there are many cheap Android tablets available on the market, what separates this from the rest is that it will run on
Android 4.0 Ice Cream Sandwich
and have a capacitive multi-touch screen.
The Novo 7 tablet will run a 1GHz Ingenic Xburst processor made by MIPS, dual-cameras (2MP rear/VGA front facing), an
SD
card slot and
HDMI
out.
Additionally, the tablet can handle "3D graphics with the Vivante GC860
GPU
and
1080p
video decoding."
Says Ingenic:
We are pleased to join with MIPS to announce these breakthrough high-performance, low-power, low-cost Android 4.0 tablets. Combining the elegance of the MIPS architecture and Ingenic?s innovation in processor design, we are bringing a new level of processor technology to mobile devices. As we continue to collaborate with MIPS to broaden the mobile ecosystem around the legendary MIPS architecture, we anticipate even broader proliferation of our devices worldwide. We believe the mobile world will be more versatile and colorful with another processor joining in.
Check out the promo video below, and check out the tablet here:
http://www.ainovo.com/