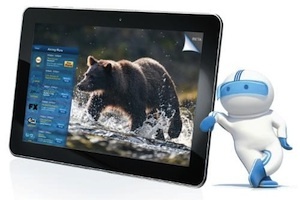 Cox Communications has made TV
streaming
available to iPad owners , as long as you have one of their more expensive cable subscriptions.
Dubbed the Cox TV Connect app, users can log in and watch live TV from their tablets.
"A screen is a screen is a screen,"
added
Cox VP of Video Strategy Steve Necessary.
For now, the app only has 35 live channels, compared to similar apps from rivals like Cablevision that offer all their hundreds of channels.
Cox says it will add content on a rolling basis.