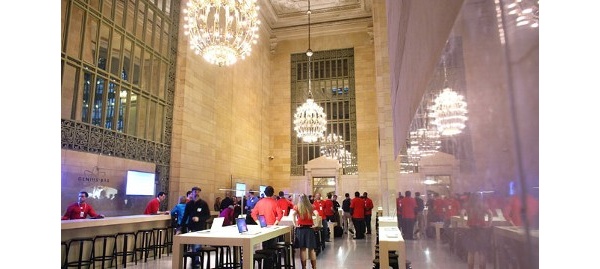 Apple
has confirmed its large Grand Central store will open tomorrow at 10 AM.
The 23,000 square-foot megastore will be complete with Genius Bar tech support and "a few new things designed for people who move at New York speed," says
ABC
.
Those include:
"We have all of our workshops as well as one-to-one training. We'll also have, exclusive to this store, 15-minute express workshops that are streamlined versions of all our favorite workshops."
There is also an Apple Store App which will let you use your
iOS
device to make purchases online and pick up the product when you get to Grand Central.
The store will have 300 employees.
Apple bought out the space that was rented by Charlie Palmer's Metrazur restaurant for $5 million, ensuring Palmer breaks his lease 8 years early.
The MTA says Apple will pay $1.1 million rent per year, a significantly higher amount than Metrazur, which was paying $263,997. Foot traffic through Grand Central is over 750,000 people per day, with commuters having an average salary above $100,000.