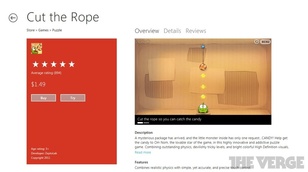 Microsoft
has unveiled the Windows 8 Windows Store, where developers can sell apps.
Starting in February, devs can sell apps for a minimum $1.49 up to $1000.
Like other app stores Microsoft will take 30 percent revenue, but if your app is popular and brings over $25,000, the cut is reduced to 20 percent.
In-app transactions have the same split, if they use Microsoft's billing system.
Windows Store developer accounts cost $49.
Pics via
Verge
: