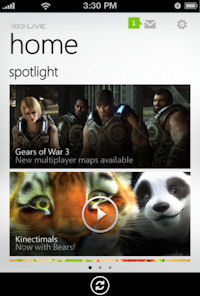 Xbox Live companion app for iPhone, iPad released.
Microsoft has released the official Xbox LIVE companion app for Windows Phone devices, and for Apple's iPhone and iPad devices.

This free app will allow you to stay connected to the Xbox LIVE community when you are away from your console. Some initial features for iOS include the ability to manage your friends list (invite new friends etc.), the ability to read and edit your Xbox Live profile, change your avatar features/items with the avatar closet and view/compare your achievement progress with friends.

The Xbox LIVE companion app for Windows Phone 7, released yesterday, has more features than the iOS version, such as Xbox Companion search powered by Bing, allowing you to search the unified Xbox catalog for movies, TV shows, music, games and apps using the Windows phone. You can learn more details about the movie, TV show, music or game that is playing on your console.