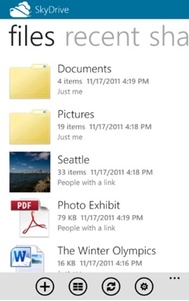 Microsoft
has announced the availability of SkyDrive apps for Windows Phone and
iOS
.
SkyDrive is Microsoft's cloud service used to store your data including documents, videos, music, photos and more. When you move any file into the SkyDrive, that file is then available from any browser in the world.
Recently, the company updated the service, adding support for HTML5 and CSS3 and now with the addition of native mobile apps, the service seems poised to better compete with
DropBox
and Amazon CloudDrive.
For Windows Phone 7.5, Microsoft explains that
"we focused on deeply integrating SkyDrive into the phone itself through the Pictures and Office hubs. For instance, you can share photos stored on SkyDrive by email, text, or IM, use Office apps like Word, Excel, and PowerPoint with SkyDrive files, and even keep your phone's camera roll up-to-date on SkyDrive automatically."
For iOS, the company explains:
"We have a long history of supporting iPhone customers with built-in support for Hotmail and with apps like Bing, Messenger, OneNote (with SkyDrive sync), and now Skype. More generally, we believe you should have access to your personal content no matter which device you use. This is why we are excited to invest in HTML5 both on the web and on mobile on [ skydrive.com ] On the iPhone, we've taken the next step by making the new SkyDrive app for iPhone available in 32 languages worldwide. In addition to their OneNote notebooks, iPhone customers can now access all of their files in SkyDrive, create folders, delete files, and share links to folders and files directly using the Mail app."
More information
with the demo videos: