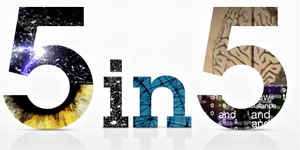 As part of their annual '5 in 5' predictions, IBM says mind reading is coming sooner than you think.
The list is the company's way to predict 5 pieces of technology or services that will emerge five years into the future. The list also helps keep IBM focused on its "Smarter Planet" initiatives.
Here is this year's list:
Mind reading is no longer science fiction.
You will be able to power your home with the energy you create yourself.
You will never need a password again.
The digital divide will cease to exist.
Junk mail will become priority mail.
When speaking about mind reading, IBM doesn't mean getting to look at someone else and immediately hear what they are thinking. What they mean is your brain could be synced to portable devices. IBM explains:
"If you just need to think about calling someone, it happens. Or you can control the cursor on a computer screen just by thinking about where you want to move it. Scientists in the field of bioinformatics have designed headsets with advanced sensors to read electrical brain activity that can recognize facial expressions, excitement and concentration levels, and thoughts of a person without them physically taking any actions."
Don't take it from me, however, here is the list with full explanations from IBM:
Science fiction becomes reality. Worlds collide. The future is now...or within five years, at least.