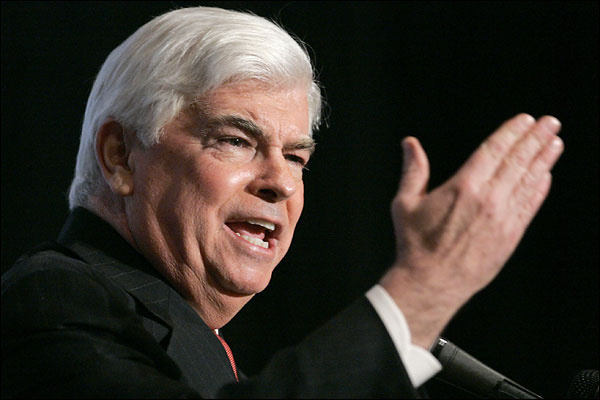 SOPA
and
PIPA
may have been
dealt a setback
by last week's widespread protests, but neither has been withdrawn completely. Likewise, opponents of overreaching anti-piracy legislation continue to speak out.
No individual has received more attention than Wikimedia's
Jimmy Wales
.
Wikipedia
was certainly the biggest website to
go dark
on January 18 in protest of the two bills. While the decision to join the blackout was based on widespread community support, it was Wales who got the ball rolling last year, and ultimately the choice was in his hands.
MPAA
Chairman, and former US Senator,
Chris Dodd
responded to the blackout by
calling it
"an abuse of power."
Later he appeared on Fox News and
blatantly threatened
to cut off campaign funding for politicians over their opposition to the bills.
Speaking at the
Digital Life Design
conference in Munich,
Wales responded
to the MPAA rhetoric. He said of the protests
"that?s democracy,"
adding that Dodd
"had best get used to it."
He then went even further and suggested the MPAA should fire Dodd.
Wales' position on Dodd mirrors a comment by Brad Chase of CBS News last year. Ironically, Chase made that suggestion in
an article
suggesting the government needs to do more about piracy. At the same time, he noted Dodd
"has done everything possible to widen the rift between Hollywood and Silicon Valley."
The MPAA stance on SOPA and PIPA has softened in the wake of the protests. In a statement last Friday, Dodd made an appeal for
"a sincere discussion about how best to protect the millions of American jobs affected by the theft of American intellectual property."
Of course they took the opposite position when they thought they were on the winning side.
During the hearing over SOPA last November, the MPAA's Senior Executive Vice President for Global Policy and External Affairs stopped barely short of calling the bill's critics liars:
Opponents point to the DNSSEC code and claim that it is not compatible with the site blocking or filtering technology envisioned by H.R. 3261. This argument conveniently ignores not only the history of the creation of DNSSEC but also the very nature of Internet protocols, which is simply this: when new developments or circumstances require changes to these codes, the codes change. Any software engineer will tell you that no development process stops at version 1.0. Today is no different.
Firing Chris Dodd is unlikely to make any substantial difference to MPAA policy. It's not as though
their lobbying
efforts
or rhetoric
started when he was
hired last year
. On the other hand, it's hard to remember another MPAA representative as oblivious as Dodd is to his own public image.