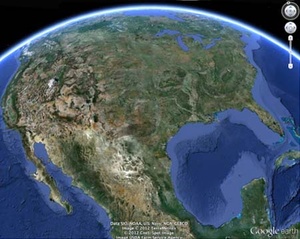 With the release of
Google Earth
6.2 this week, Google was very proud to announce that the earth mapping software now has one smooth satellite image of the planet instead of a
map
patched together by images taken at different times.
The globe looked a bit like a quilt instead of a fluid image, but that challenge has now been eliminated.
Says Google:
"We're introducing a new way of rendering imagery that smooths out this quilt of images. The end result is a beautiful new Earth-viewing experience that preserves the unique textures of the world's most defining geographic landscapes?without the quilt effect."
The effect
can be seen on all updates to the app
, including mobile and desktop version. All older versions of the software before 6.2 will have it, as well, but Google, as with all software makers, is encouraging users to update to the latest.
Additionally, you can now share your screenshots via Google+ directly if you have an account. Finally, the software now has included biking, transit and walking directions.