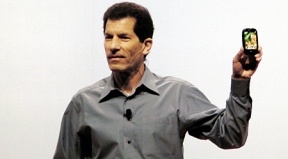 In April 2010,
HP
announced it was purchasing the struggling smartphone maker
Palm
for $1.2 billion, after at least four other companies gave serious bids.
Palm had put itself up for sale that March after it became clear that the company's phones were not selling and it only had enough cash to last the next 12 months.
With the acquisition, former Palm CEO Jon Rubinstein came on board as high-ranking executive at HP, with a commitment to stay 12-24 months.
After a rough year at HP, in which the company discontinued all of its
webOS
hardware projects and then turned the software open-source after unsuccessfully trying to sell it, Rubinstein
has left
. Says HP:
"Jon has fulfilled his commitment to HP. We wish him well."
A spokesperson for Rubinstein says the exec is
"going to take a well deserved break after four and a half years of developing webOS."